Overseas Chinese head home for better lives
2014-11-18 19:30:55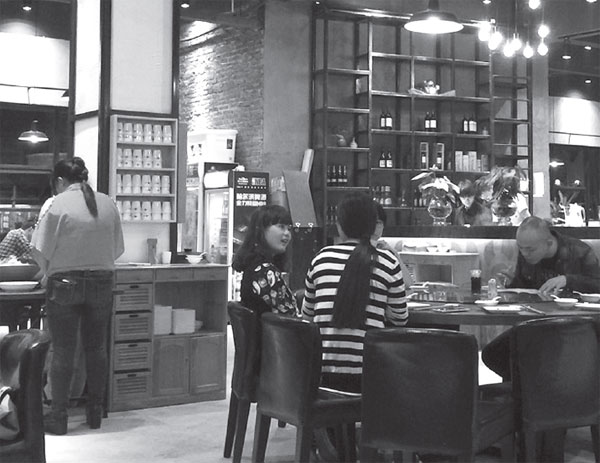 Customers visit Zhang Xiangkai's cafe in Li'ao town of Wenzhou, Zhejiang province. Zhang is one of Li'ao's residents who returned home to restart their businesses after years working overseas. Yan Yiqi / China Daily
Chinese town's residents who headed overseas return for better opportunities and lives, as Yan Yiqi reports in Wenzhou, Zhejiang province.
Unlike many cafes in Chinese cities like Beijing and Shanghai where business will not start until 9 am, Zhang Xiangkai opens his doors before 7 am every day.
The 42-year-old's cafe in his hometown of Li'ao in East China's Zhejiang province is similar to the more than 20 other cafes at the center of the 33-square-km township - all claim to offer the best coffee in Wenzhou, the city which Li'ao comes under.
The small town's claim to authentic brews stems from the fact that most of its cafe owners had worked and lived in Europe for years before bringing back its styles and techniques of making coffee.
Li'ao itself is known for its large number of natives working and living abroad, mostly in Europe. Its overseas population number more than 25,000, accounting for 60 percent of its total, according to Li'ao Overseas Chinese Association Chairman Huang Pinsong.
While many members of the China's nouveau riche think about migrating to the West, many of those who obtained permanent residency in European countries are also flowing back to China.
Since 2008, when the economic crisis broke out in Europe, a large number of overseas Li'ao residents have returned to China for better business opportunities, Huang said.
"Doing business in Europe was hard. It was even harder when the economic crisis came. China has been developing vigorously during the past decade. Many of us started to move back for opportunities and for a sense of belonging," he said.
More than 300 overseas Chinese who originated from Li'ao have been returning every year in the past five years and many more choose to stay in the country for longer periods, Huang said. Those who returned are from the generation who went abroad in the late 1980s or early 1990s, and are now in their 40s, he said.
"They suffered a lot in the early 1990s but they still have the ambition to make a difference in their lives," Huang said.